Es hat fast 20 Jahre gedauert, bis Chitose Abe und ihr Modelabel sacai vom Untergrund-Kult zur Spitze der Streetwear- und Sneaker-Szene aufgestiegen sind. In 2019 hat es die sprichwörtliche Fusion der Nike Modelle LDV und Daybreak, besser bekannt als Nike x sacai LD Waffle Daybreak, auf sämtliche Best-Of-Listen geschafft und in den meisten Fällen sogar angeführt. Heute erzählen wir euch ein wenig über die Geschichte des Labels sacai, ihre ausgefallenen Kreationen und die Person dahinter.
In die Wiege gelegt: der Sinn für Style
In Gifu, einer Stadt nördlich von Nagoya, Japan, wurde Chitose Abe, damals Sakai, geboren. Ihre Mutter war Näherin in der örtlichen Textilfabrik, also ist sie schon früh mit Mode und Textilien in Kontakt gekommen. Sie war in der Schule bereits als Trendsetterin bekannt und ließ ihre Uniform von ihrer Mutter anpassen, um unter ihren Mitschülern herauszustechen. 
Nach ihrer Schulzeit ließ ihre Faszination für Tokyo's aufstrebende Modeszene nicht nach. Als sie eine Werbung des legendären Designers Issey Miyake im Fernsehen sieht, wird ihr bewusst, dass "Modedesignerin" durchaus ein Karriereweg sein kann. Nach ihrer Unizeit in Nagoya kommt schlussendlich der Umzug nach Tokyo - um für die namhaftesten Labels Japans, COMME des GARCONS und Junya Watanabe, zu arbeiten.
Familie und Karriere aus dem Homeoffice
Während ihrer Zeit bei Junya Watanabe lernt sie ihren späteren Ehemann, Junichi Abe, kennen und lieben. Die beiden heiraten und Chitose bringt ihre Tochter Toko 1997 zur Welt. Sie verlässt ihren Posten bei Watanabe um sich die nächsten zwei Jahre komplett ihrem Nachwuchs zu widmen. 
In der Zeit als Vollzeit-Mutter wird ihr Verlangen nach einem kreativem Outlet größer. 1999 entschließt sie was dagegen zu tun und gründet sacai, der Name ist eine Abänderung ihres Geburtsnamens. Unter diesem Namen kreiert sie die ersten paar Jahre limitierte Kollektionen und steuert von Zuhause aus ihr Unternehmen. 
Nach einigen Jahren eröffnet Abe ihr Studio in Tokyo's Daikanyama Bezirk, der auch die Heimat von Größen wie Yohji Yamamoto oder Issey Miyake ist. Zu dem Zeitpunkt ist sacai mittlerweile innerhalb Japans ein Begriff und es dauert nicht lange bis internationale Kaufhäuser auf das Label aufmerksam werden. Zu ihren größten Unterstützern zählen Adrian Joffe, Chef bei COMME und Sarah Andelman von colette. Letztere unterstützt Abe mit mehreren Pop-Ups von sacai in Paris beim Sprung auf die internationale Bühne maßgeblich. 
Die Popularität des Labels steigert sich stetig - so kommen mit der Zeit auch Kollaborationen mit The North Face, Hender Scheme, colette und Fragment Design zustande. Doch die Zusammenarbeit mit dem Swoosh ist diejenige, die sacai endgültig in den Mainstream hebt.
Nike und sacai: eine Erfolgsstory
2015 kommt es zur ersten Zusammenarbeit zwischen sacai und Nike. Im Laufe des Jahres interpretiert Abe Sportswear-Klassiker wie Tracksuits und Jogger neu und gibt ihnen einen funktionellen aber femininen Touch. Sie integriert lebendige Farben und unübliche Textilien wie Tüll in ihre Kollektion die weltweit zelebriert wird und ihren internationalen Status zementiert.
In den folgenden drei Jahren entstehen weitere Sneaker-Kollaborationen zwischen den beiden Brands, unter Anderem auf dem Air Max 90 und 95, Jordan 1 und Dunk. Mit dem Dunk gehen die Brands 2018 auch einen Schritt weiter und bringen die "Blazer With The Dunk" - Kollektion, der erste Versuch einer Fusion zweier Silhouetten auf einem Schuh - Mit doppelten Swooshes, Zungen und Laces.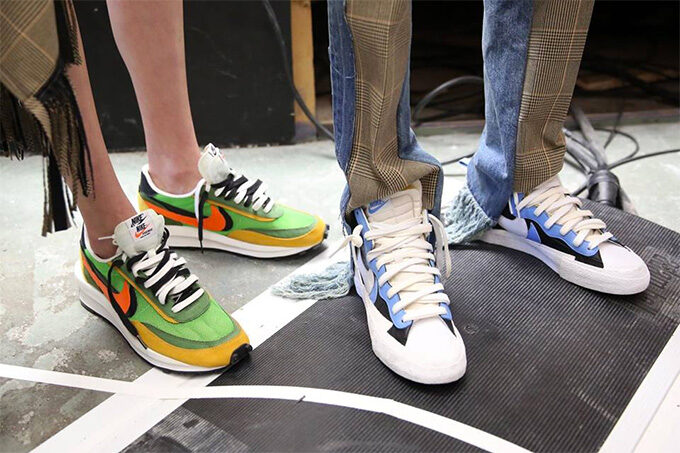 Der wilde Look des Hybrids erfreut sich enormer Beliebtheit. Ein Jahr später kommt die nächste Synthese zweier Modelle auf den Markt: der Nike x sacai LD Waffle Daybreak. Die Kreation, die aus den beiden Laufschuhen Waffle Daybreak und LDV entstanden ist, entpuppt sich als heißeste Kollaboration der Saison. Somit erreicht sacai endgültig den Mainstream. 
Während wir auf das nächste Kapitel der Erfolgsgeschichte zwischen Nike und sacai warten, könnt ihr hier die Colorways des Nike x sacai LD Waffle Daybreak shoppen.